The Atlantic Slave Trade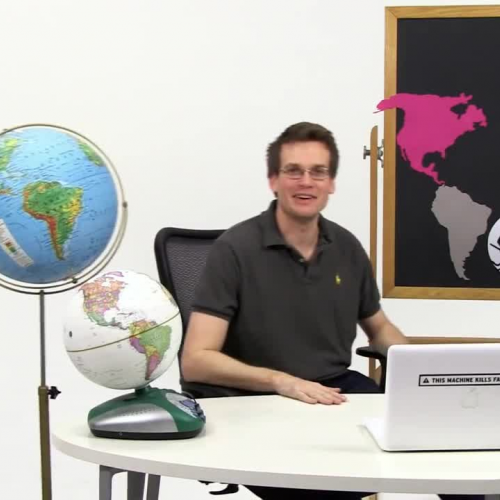 The Atlantic Slave Trade
Better understand how the Atlantic Slave trade impacted the world.
---
17 Video Interactions


00:01:12

What percentage of slaves that were brought to the America's were brought to the United States area?

41 Percent

48 Percent

100 percent

5 Percent



00:01:50

T or F: The goods that slaves were used to grow were essential to living.



00:02:03

A misconception many people have about slaves is the following: (meaning what people think is true but actually isn't true).

That Asian people captured slaves in Africa and sold them to Americans.

That Europeans captured Africans themselves and brought them to America.

That Africans captured each other and sold/traded them to Europeans.



00:02:18

Why wouldn't Europeans be ale to just conquer Africans and take them into slavery?

That is what they did so they were able to conquer them.

They were too powerful to conquer.

Europeans easily conquered Africans because Africa was weak.

Africans had guns and could defend themselves too well.



00:02:31

What did Africans who had captured other Africans trade those Africans for?

They did not capture each other for trade.

Africans traded with people from Asia for gunpowder.

Africans traded other Africans with Europeans in exchange for metal tools, guns and textiles.



00:03:07

On average, how much space did each slave have on the ship?

10 sq. ft.

Enough to fit their body comfortably.

4 sq. ft.

7 sq. ft.



00:03:23

What were slaves treated like when they were sold and purchased?

Humans

Cattle

Indentured Servants



00:04:12

T or F: The slavery he is talking about is what happened in the United States?



00:04:29

What was the average life expectancy of a slave on a Brazilian sugar plantation?

50 years

25 years

23 years

They lived long happy lives.



00:04:41

What was on way conditions were better in America than in Brazil?

Slave population increased naturally meaning more slaves were born than died.

Slaves were treated better by their owners because their owners were more caring.

There was no difference between the treatment of slaves in America and in Brazil.



00:05:03

T or F: Because only 5 percent of African slaves that were brought to the Americas came to the US, that means the slave population in the US was small.



00:05:41

What does Chattel Slavery mean?

They were treated poorly.

They were movable property.

Slaves were able to hold high positions in society.

That is just the name it was given.



00:07:13

Which of the following words/phrases does he NOT use to describe slavery?

removed from their culture

suffers from social death

Given a choice

Dehumanized



00:07:26

I am forgiving him for saying the 'S' word, you are still not allowed to use it!

____________________________



00:08:41

What role does the Bible play in slavery?

It talks about slaves sometimes.

People use the story of Ham to justify using African's as slaves.

The Bible doesn't mention slavery so they think that means slavery is allowed.



00:09:39

T or F: Americans were the first civilization to use slaves.



00:10:35

T or F: It is easy to blame slavery on one group of people.
---
Click here to preview, use, or make a copy of this interactive video lesson plan (bulb).