A few years ago, flipped instruction, was a concept touted by only the most adventurous of educators. Now, however, the movement has taken off from being a rare practice to an integral part of thousands of classrooms all over the world. According
to research from online course provider Sophia Learning and the Flipped Learning Network, the number of teachers who have flipped a lesson has grown from 48 percent in 2012 to 78 percent in 2015. Moreover, google trend reports (see graph below) analyzing the quantity of searches for the term 'flipped classroom' point out that interest in this movement has grown by magnitudes within the last five years. Also within the graph below you'll notice a relatively constant quantity of search for the term since 2013, counteracting the common criticism
that the flipped classroom is a fad destined to fade away.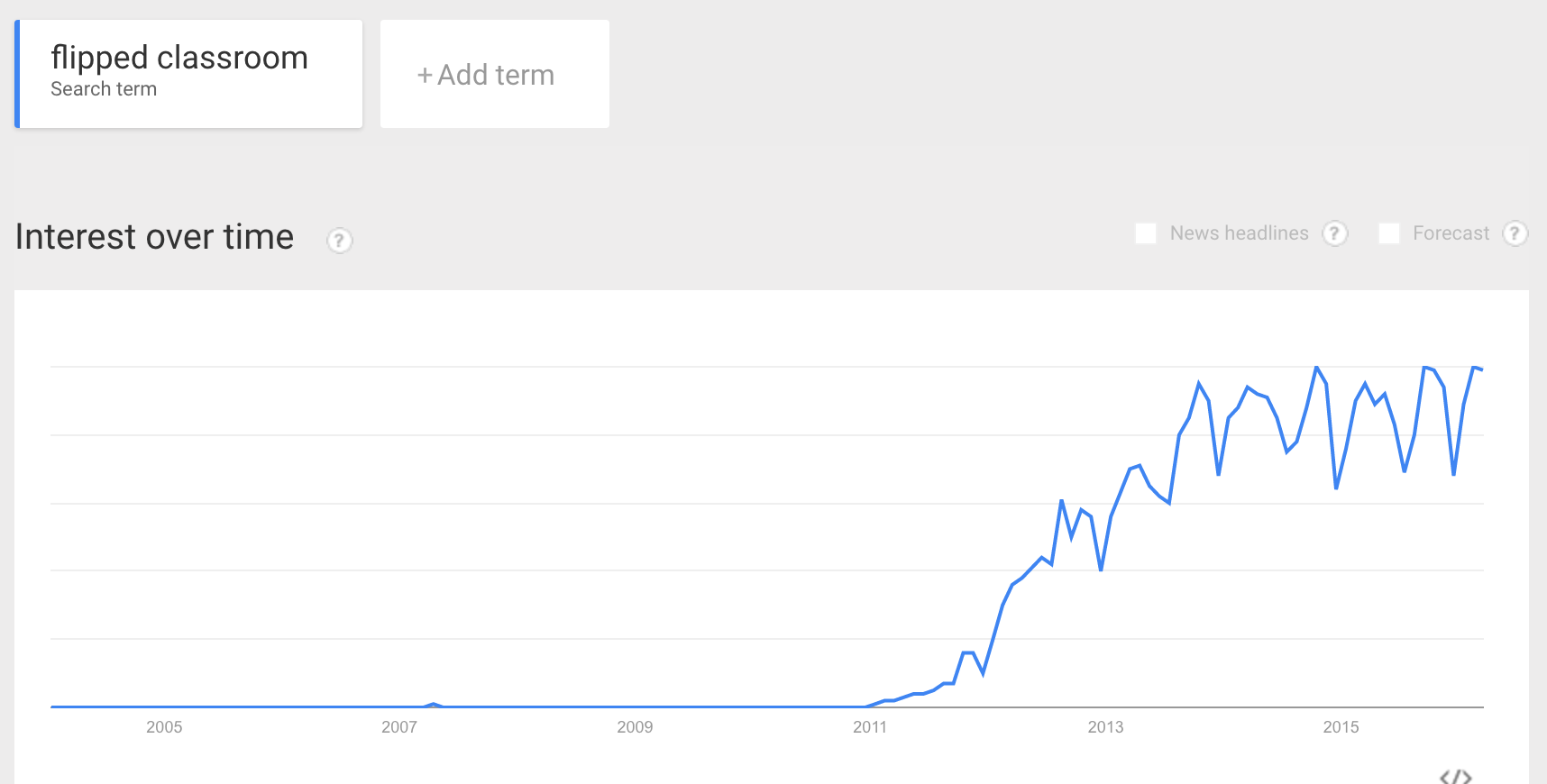 Along with this rapid growth of adapting flipped methodologies with classroom
students
, flipped instruction has recently become a mainstay for instructional leaders to provide differentiated learning pathways for
educators
at their school. Use cases vary among strategies to administer state testing, manage classroom behavior, incorporate the newest learning management system, and much more.
Flipped Professional Development at Hudson Middle
I chatted with Misty Mitchell, Media Specialist/Educational Technology Specialist on the Middle School Campus of Hudson ISD, to learn more about why and how they are flipping professional development.
As Misty points out, before flipping, professional development simply did not effectively connect with teachers. During their conference period, teachers were required to come in and sit for an hour, passively listening to the instructor go through a powerpoint presentation. As Misty points out "If you are only using lecture style teaching, it doesn't matter whether you are teaching students or the most experienced teachers, it is simply not effective". During traditional lecture style professional development, attendees do not listen, they lose focus, and in many cases get angry because an hour of their time is wasted. More than that, the PD instructor has no way to track who understands their content and consequently they have no way to fine tune their presentation to the needs of their audience.
Cristina Peterson
Realizing the inefficiencies with the traditional professional development model, Cristina Peterson, the counselor who oversees the administration of state tests at Hudson Middle, decided to flip her professional development. The transition to flipping was simple. She took the same professional development lecture she was delivering live except now she ran a screen recording application (like Screencast-o-matic) in the background while talking through her powerpoint slides. In order to incorporate accountability and receive data on the understanding of concepts, she embedded questions into the recording using PlayPosit. The end result is an accountable video lesson demonstrating to instructors what is required for the state test's writing samples:
https://www.playposit.com/public/58215/367996/telpas-writing-samples
.
Following the at-home video lecture, teachers come in for a live hands-on session with their teacher trainer, Cristina. Since Cristina already has data from PlayPosit on viewing behavior and which concepts were the most challenging, the live sessions are seriously condensed with a focus on only the training that needs to happen. Teachers appreciate the time saved and are generally more engaged during the live sessions as a result of the personalized instruction. Furthermore, for the teachers with no experience with flipping, this is a great introduction to the practice. After experiencing the benefits of flipping (more hands-on time with the instructor, deeper conversations, more critical thinking, etc.) first-hand, they are ready to introduce the methodology into their own classroom.
At schools like Hudson Middle, flipping has evolved from a strategy to more deeply engage students, to a strategy adopted by nearly all stakeholders within the school.
Are you at a school flipping professional development or in the process of considering the practice?
If so, we'd love to learn more about your school and use case! Shoot me email at
swaroop@playposit.com